In collaboration with Julie Kuhn, Hongji Zhang, Cole Rennie and Andy Wang.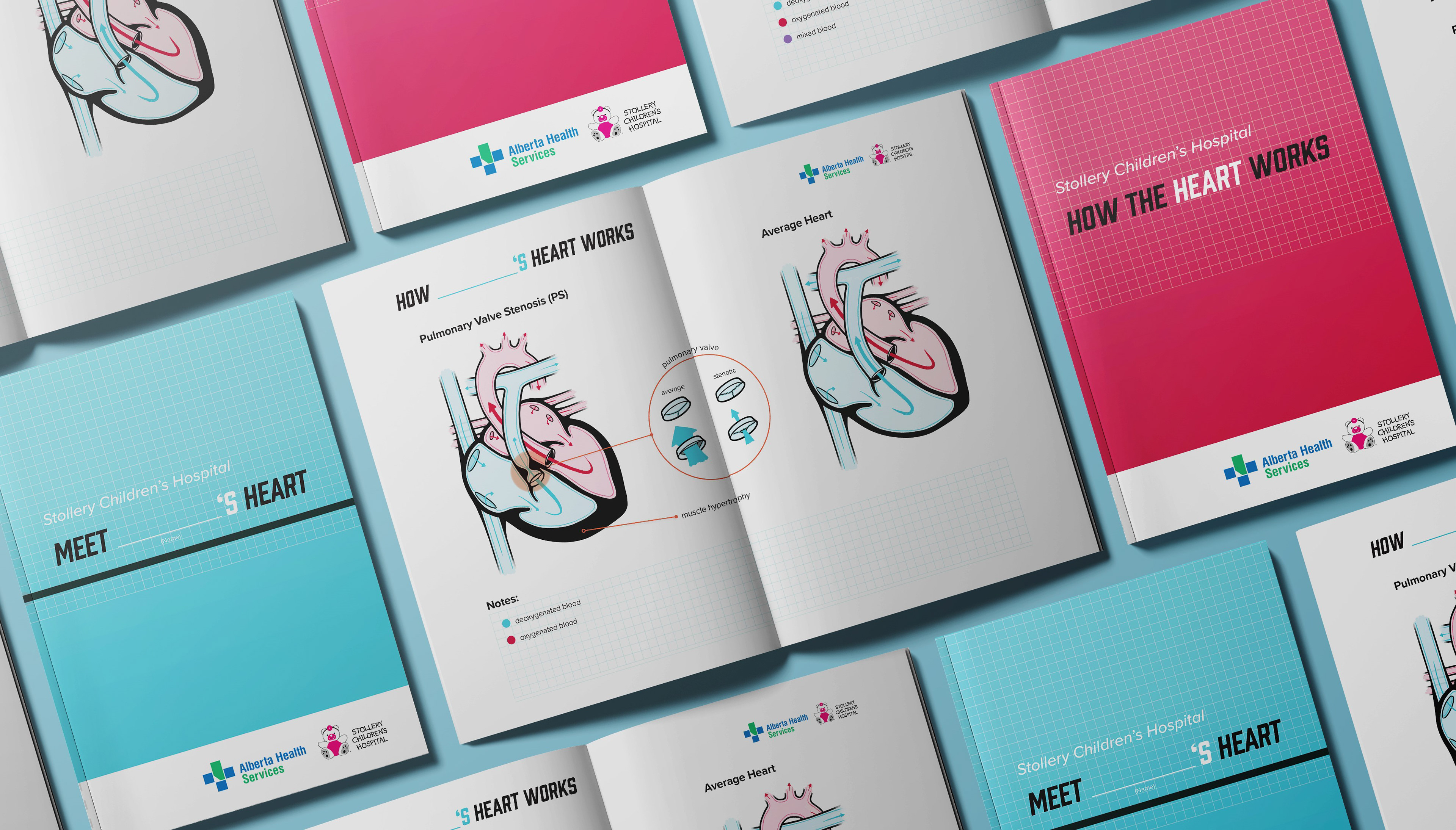 Congenital Heart Disease (CHD)
The Heart and Stroke Foundation of Canada defines Congenital Heart Disease (CHD) as a heart condition that happens when the heart or the blood vessels near the heart don't develop normally before birth. When a patient is first diagnosed, it is important that they and their caretakers fully understand the information they have received. The task was to present eleven (11) heart defects in a manner that was helpful for medical practitioners to explain CHD to patients and families.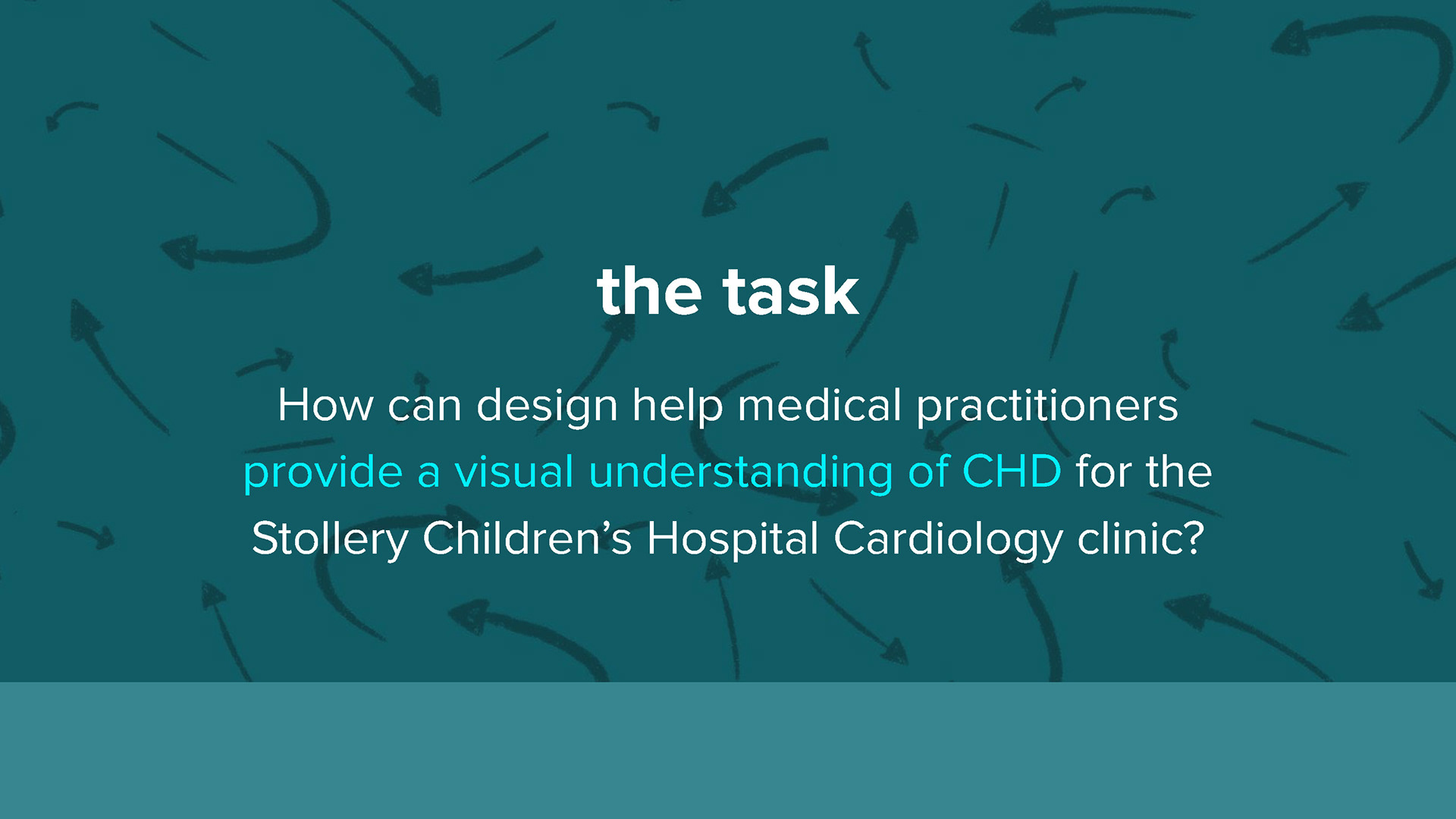 Our approach for this project was guided by the Human-Centered Design framework. This framework involves understanding the people you are designing for first, and then responding to those people's needs, wants and limitations with thoughtful, purposeful design.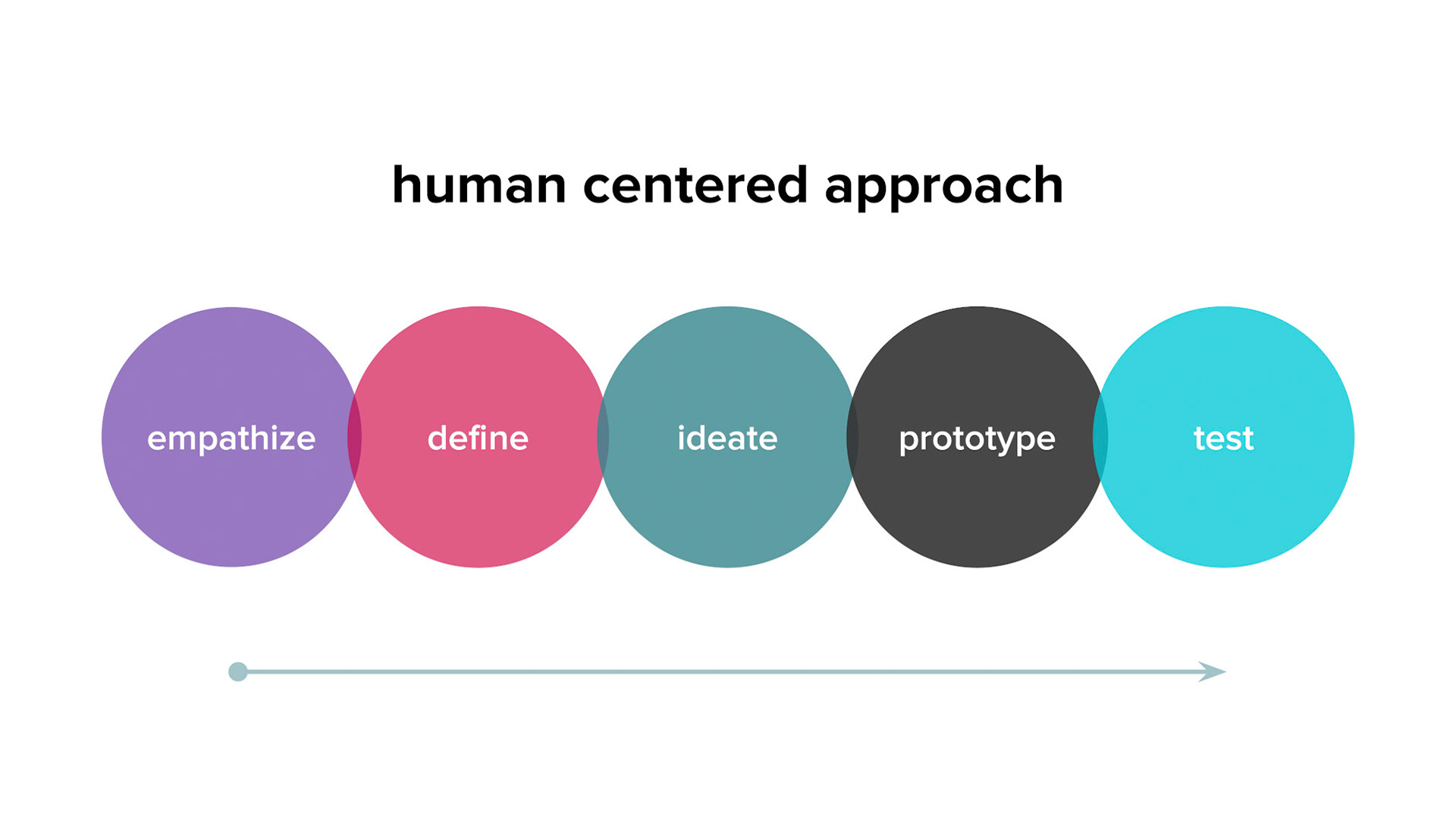 The Empathize phase involved interviews with parents of children with CHD as well as primary healthcare givers at the Stollery Children's Hospital Cardiology Clinic. These interviews revealed the complexity, abruptness and longevity of living with CHD, as well as the desire to establish control, comfort and calmness.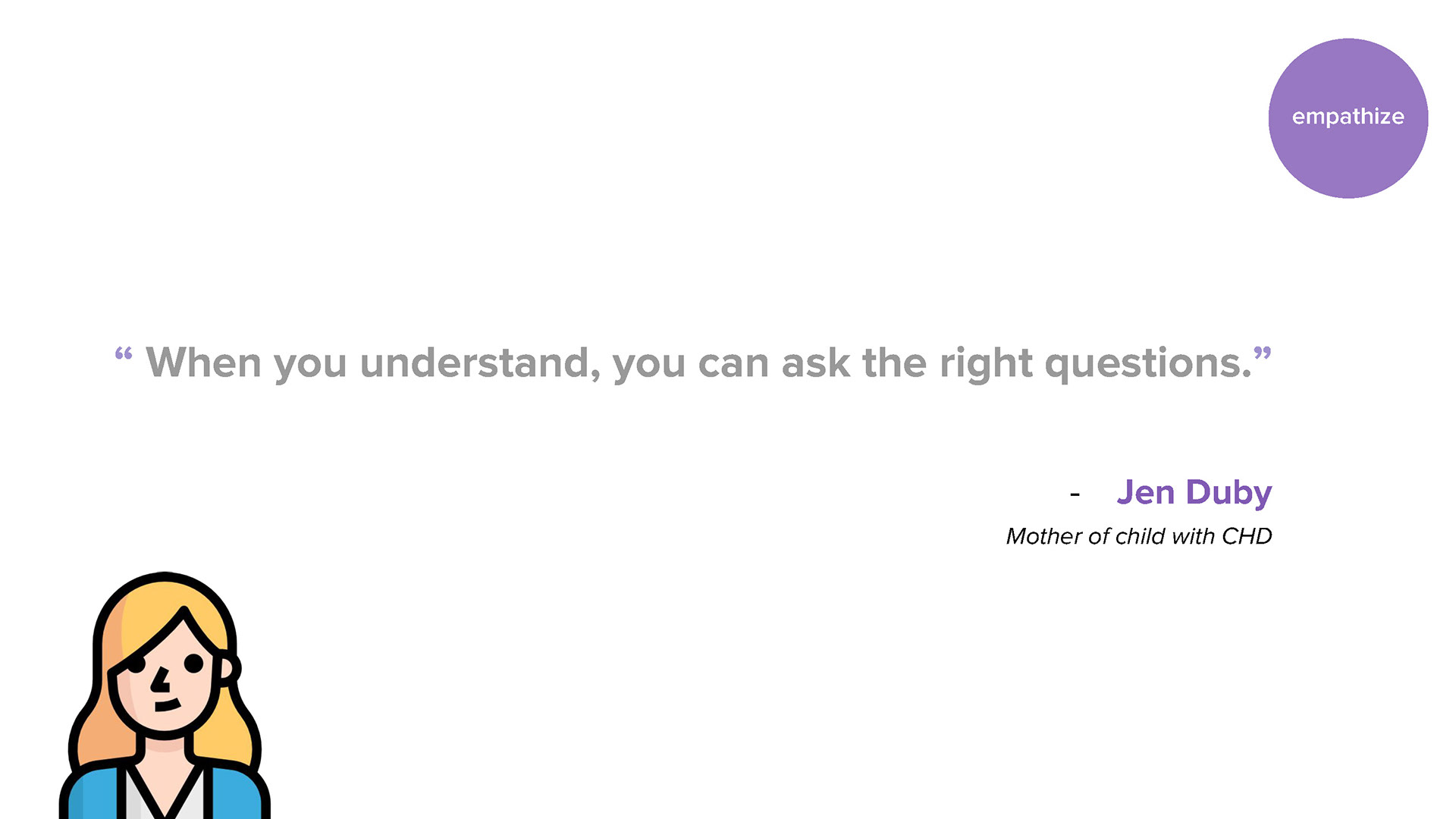 In the Define phase, we considered many avenues of possible design interventions. These issues became even more complex when we thought about the various people involved in managing a person's care.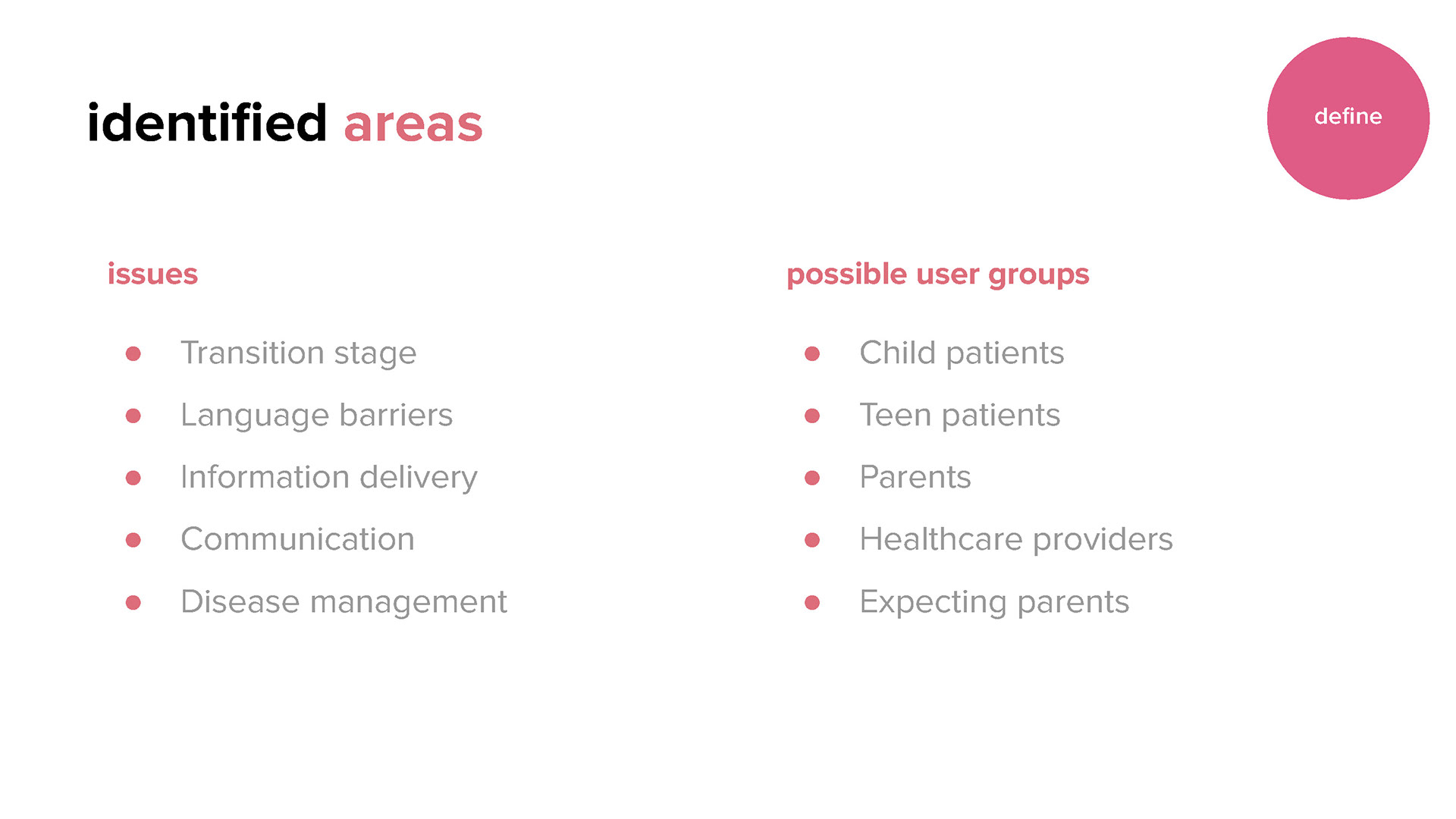 Further primary and secondary research with parents and hospital staff enabled us to narrow down a single area that would be feasible within the scope and timeline of the project. Patients over the age of 18 are no longer under the jurisdiction of the Children's Hospital, and thus need support that could help them be more active beforehand, as they would suddenly be responsible for much of their healthcare for the first time in their lives. As a result, the original research question evolved into a more focused one.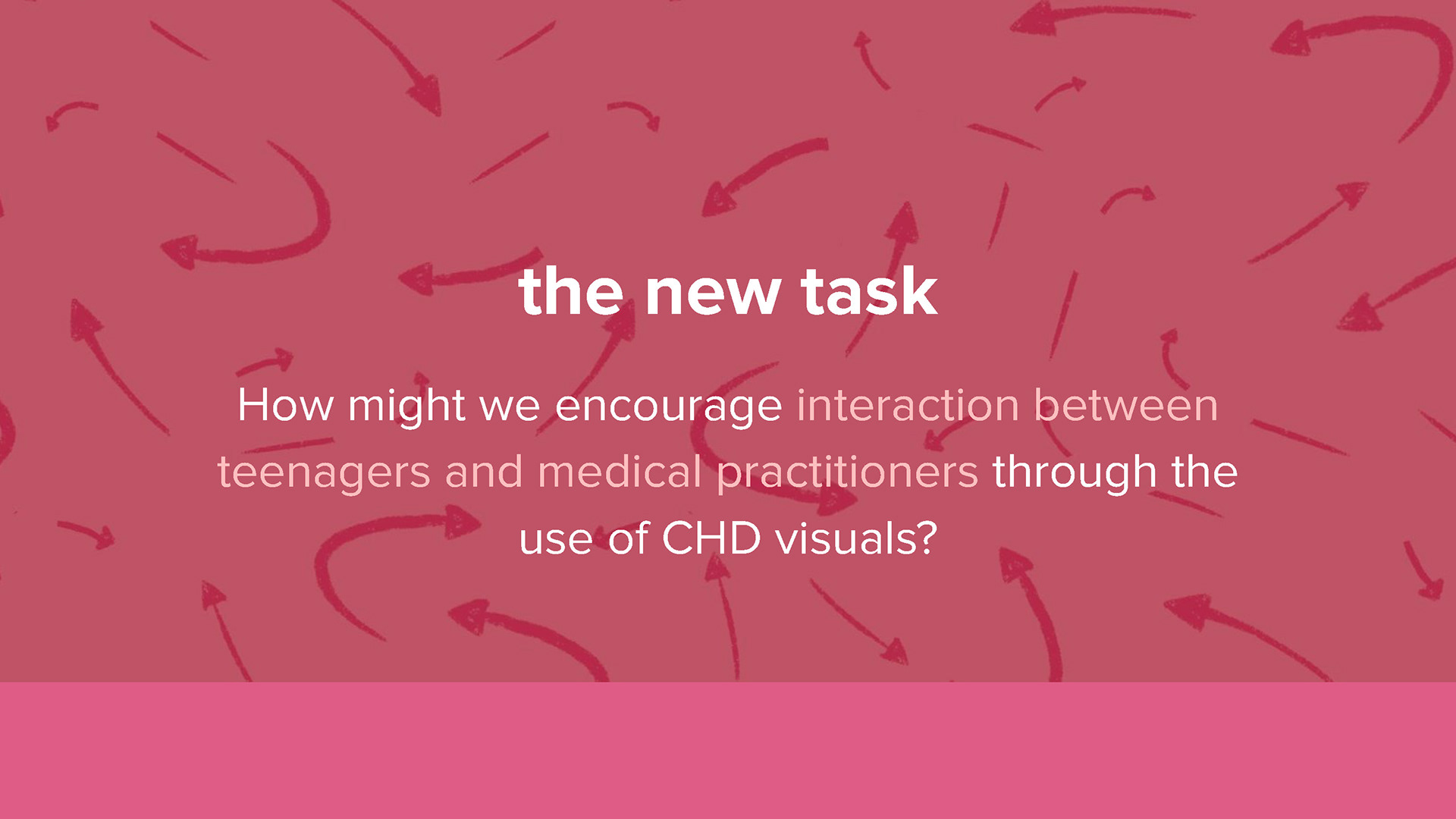 The Ideation phase involved examining current visual tools used by the Stollery to explain CHD to parents and patients, and identifying possible intervention points. We needed to create something that could help generate more conversations for teens with their healthcare providers, thus  encouraging interest in their own healthcare. With more research, we established the criteria necessary for our visuals.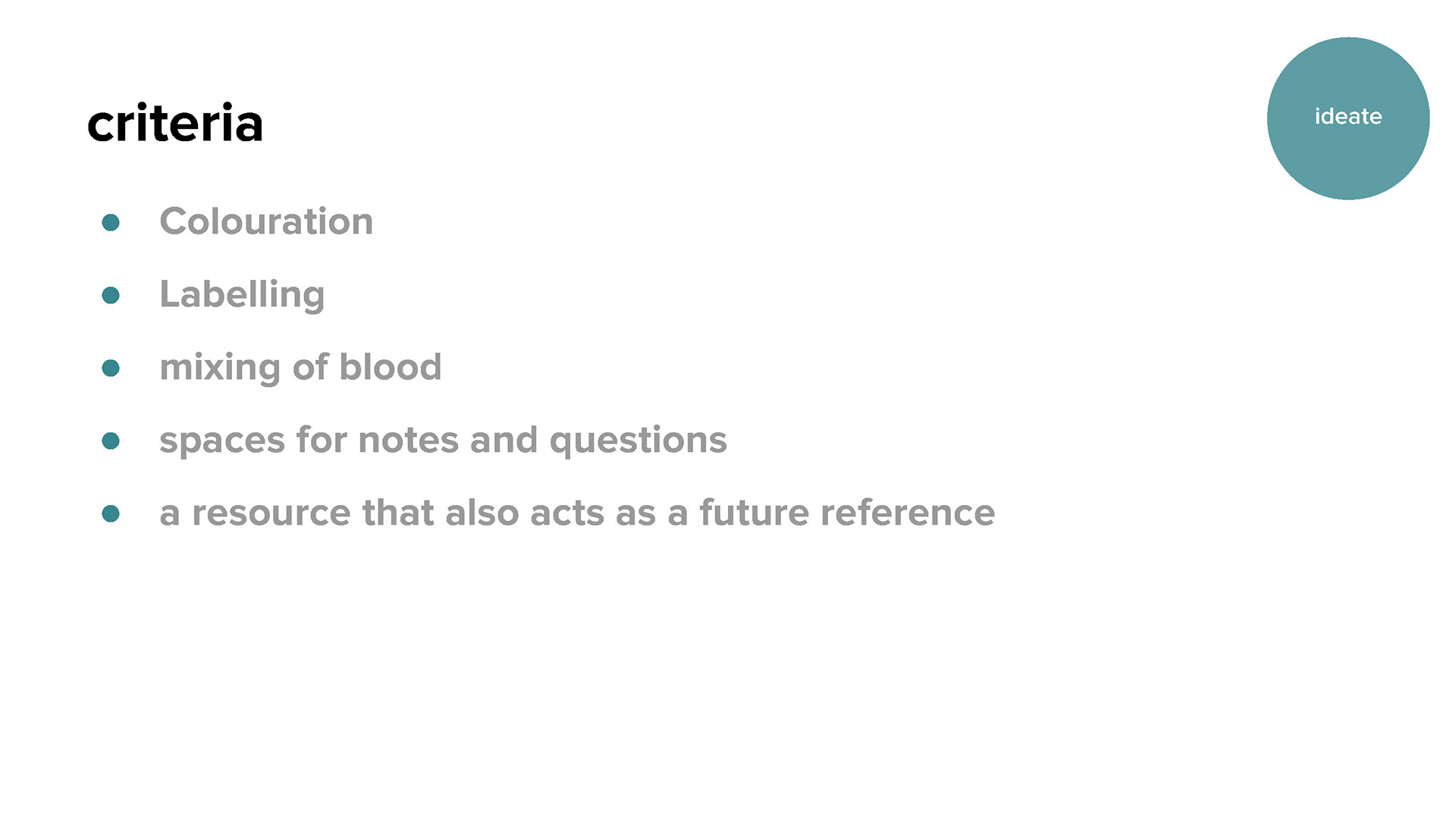 Feedback from healthcare professionals combined with our outlined criteria helped us settle on an illustration system that worked towards our target audience and still retained anatomical integrity.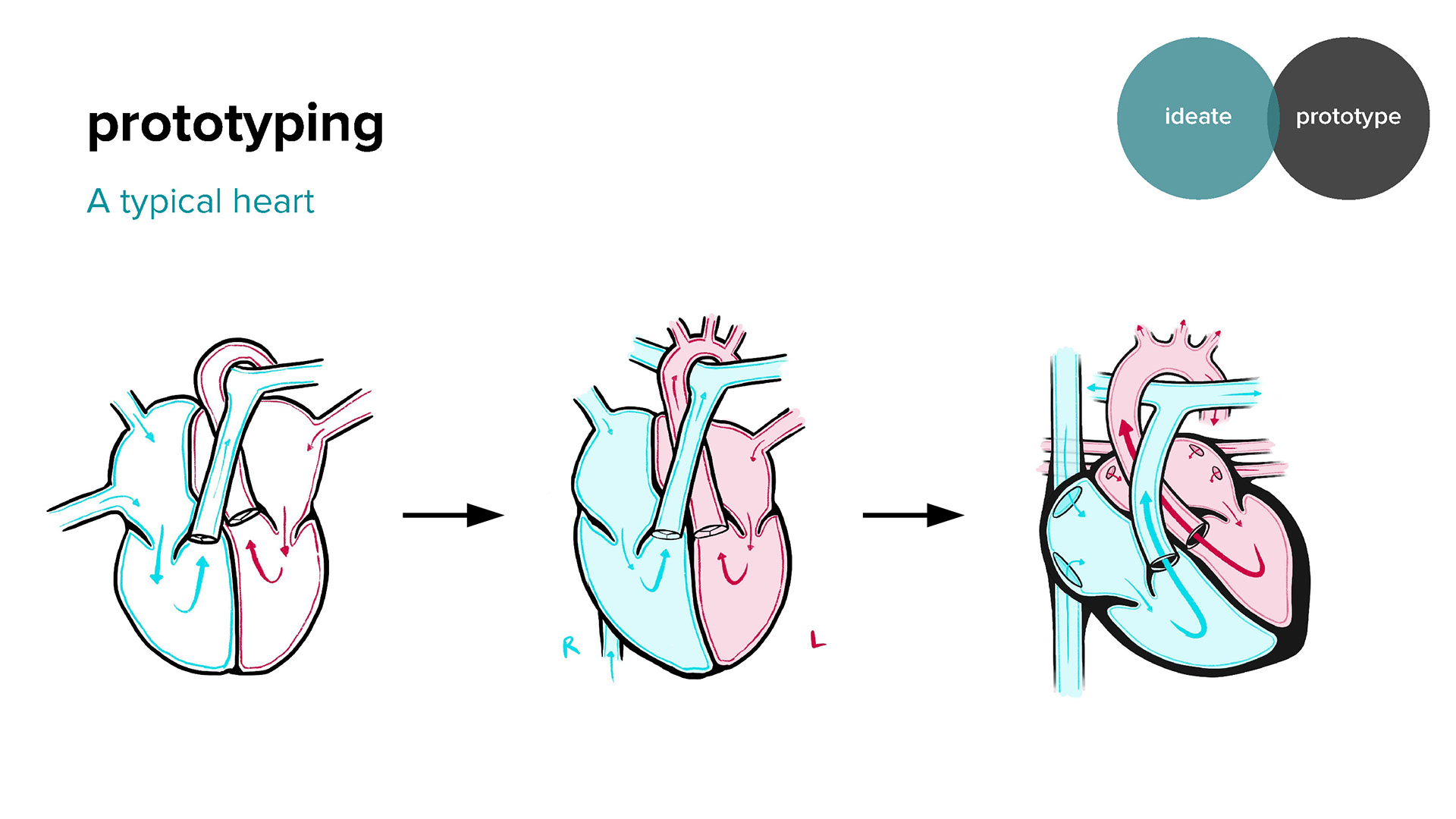 An expanded visual system was created based on this illustration system to include fonts, patterns and colors.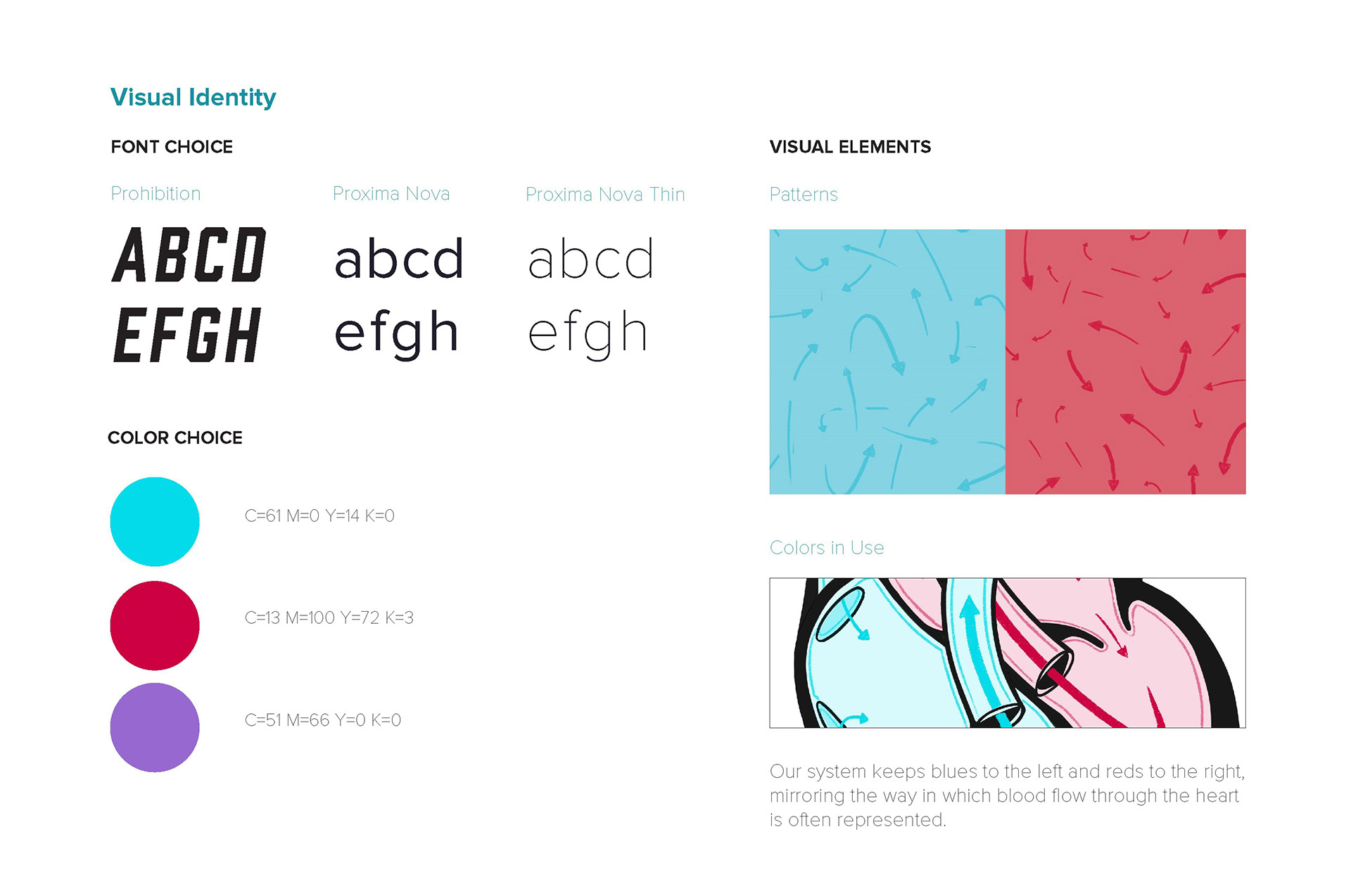 The final prototype is a personalized folder comprised of all eleven (11) CHD defect pages and an information booklet on how the typical heart works. What we really tried to create was a conversation piece. We did this by including interactive elements such as having a place for the patient's name, giving space for both doctors and patients to write and draw notes, and encouraging questions through prompts. All of this wraps up into a personal folder for the teen that is theirs to keep and reference.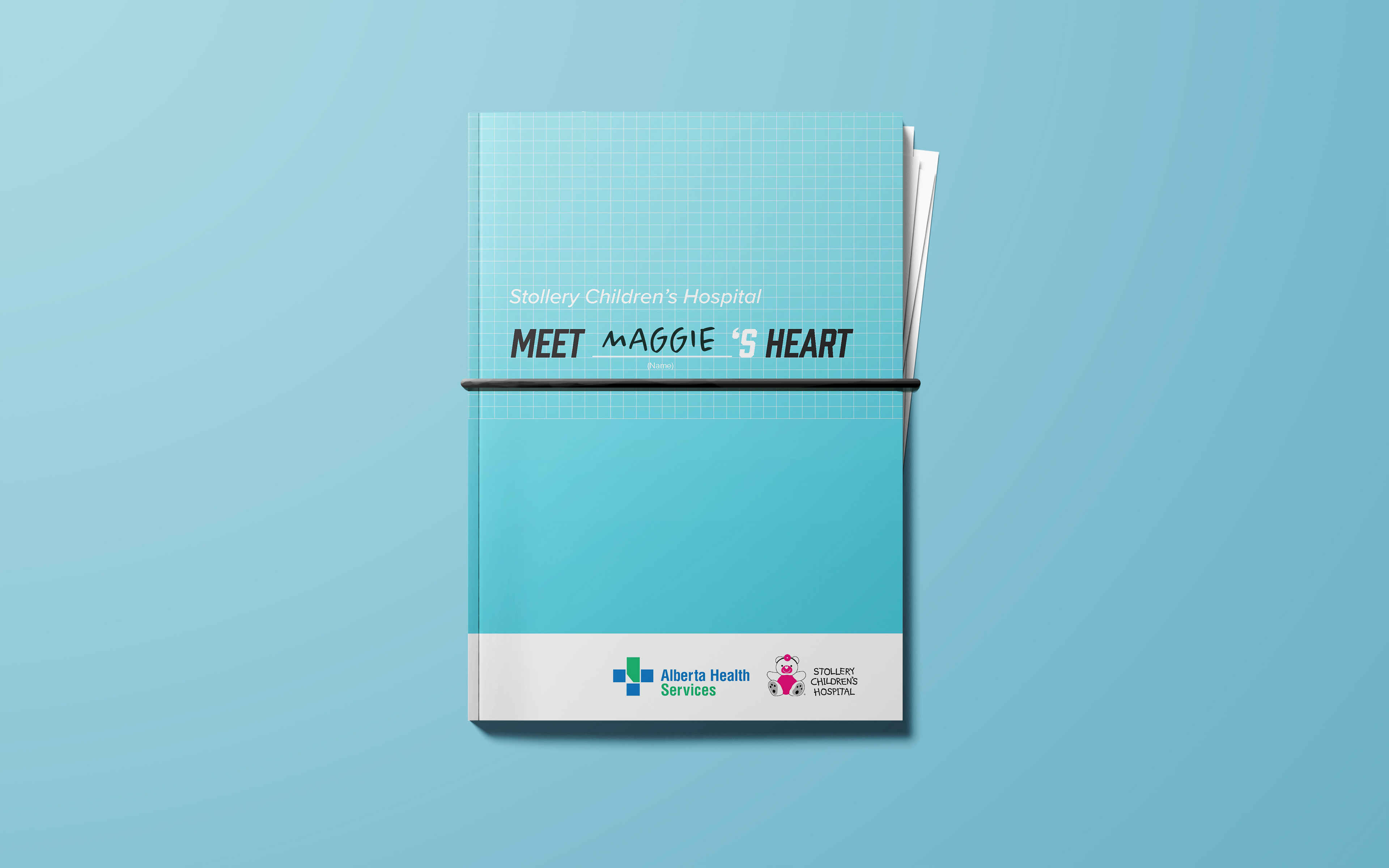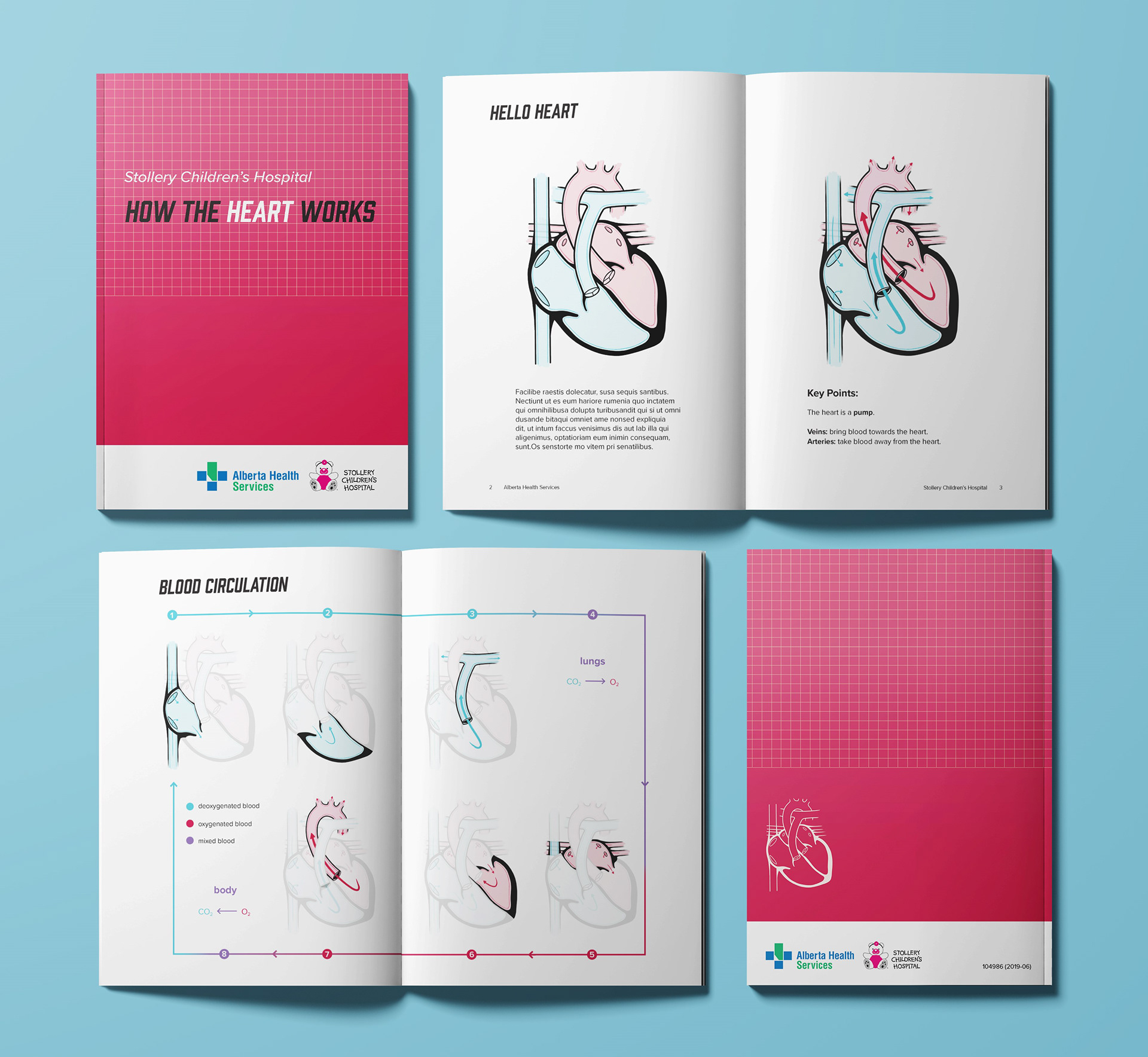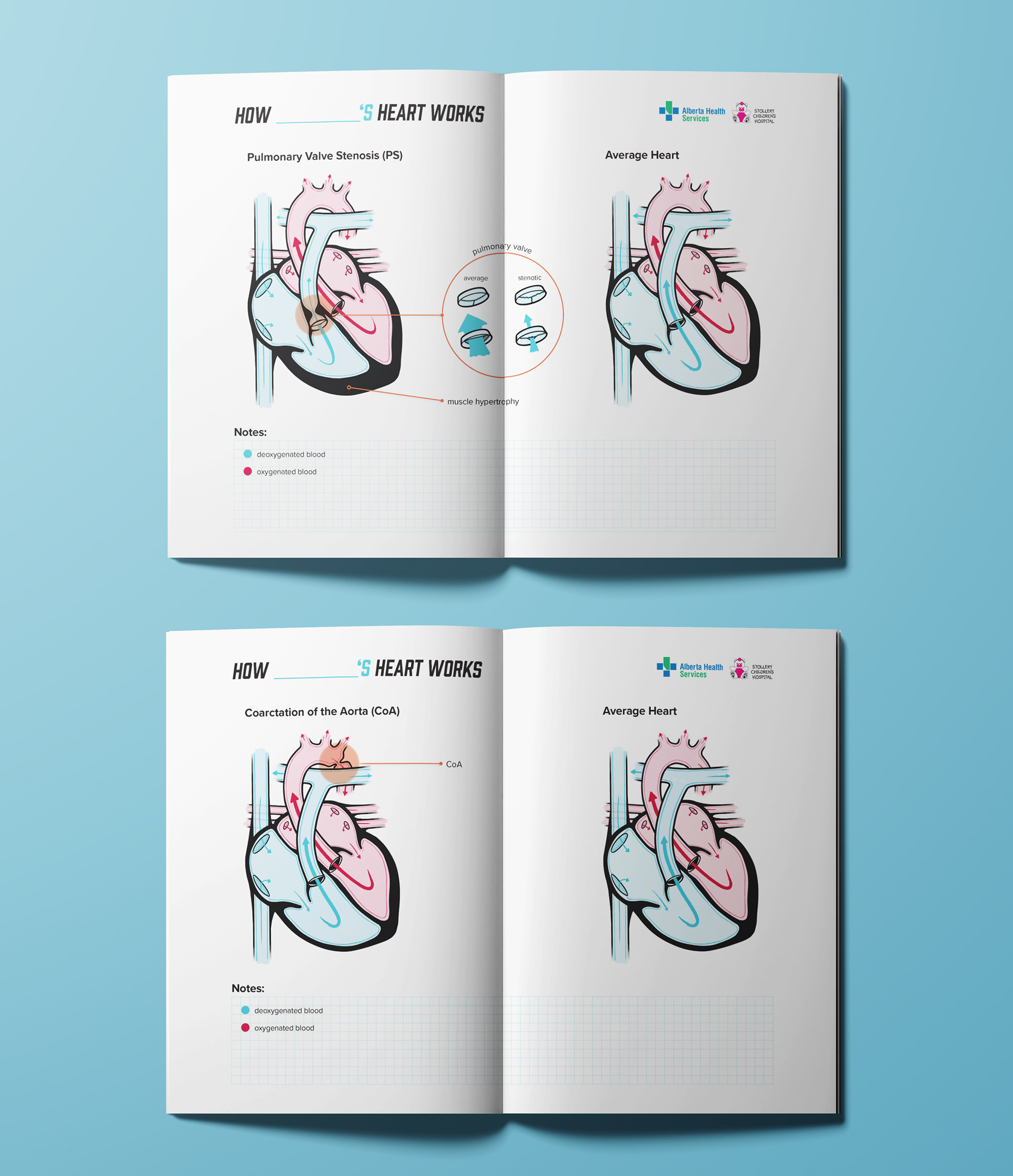 To test our prototype, we presented it to other health care professionals who were not directly involved with the project for an informal critique. While the overall tone was positive, We quickly realized that moving forward with the project, it would be important to work closely with cardiologists to refine our illustrations to be concurrent with the information they relay to teens and other patients. We also learned that it is not uncommon to have CHD patients that don't fit under any conventional diagnosis; for this reason, having plain editable sheets is important.
One of the biggest limitations during this project was that we never had the opportunity to talk with teens living with CHD. Due to time constraints, we were unable to pursue this feedback. We only consulted people that worked with teens and relied on information gathered through secondary research. Therefore, it is fair to say that we don't really know what teens want to know about their heart, and don't know if they would even hold onto our folder or want it. This is something we would need to investigate further moving forward.
In addition to primary research with teenagers, another problem we weren't quite able to tackle on paper was the representation of multiple defects on one heart. It is not uncommon for people with CHD to have more than one defect, so having a system for more dynamic representations of someone's heart is a future consideration. We think exploring a digital medium like an app or web component would help with this. Plus, since teens are known to be tech savvy, perhaps an app would allow for greater adherence.
- This project was completed as part o
f an Integrated Media for Health Design course, and 
was accepted and greenlit for production in 2019.